Home Security: Making Patio Doors and Sliding Doors Secure and Safe
Your home is only as safe as your least secure door or window. How many forced entries are through a patio door or a sliding door in your neighborhood?
Homeowners think if they have an electronic home security system and the best deadbolts on the doors, their family is safe at night. But how safe are you if your patio or sliding door is locked with a wooden stick or a poorly made lock that came with the door years ago? Security systems only let you know after your house has been entered.
Only good reliable patio door latches, or sliding door latches, keep intruders out.
How Can I Secure an Old Patio or Sliding Door?
Sliding doors and patio doors are popular because they are easy to open and close, and there lies the problem. The locks that often come on a standard sliding door are prone to failure with many operating parts, and many times stop working completely. Homeowners resort to a loose fitting stick in the lower track, a trick every burglar knows. Just open it a crack, wiggle in a jimmy bar and pop the stick out; now you have uninvited guests.
You can make your patio doors and sliding doors safe and secure inexpensively using Engertís Patio Door Security Latches. These latches work on any sliding door or window, whether wood or metal. They are simple to install, and come in many sizes and finishes. There is one for your sliding door.
In fact, you have probably used them used in resorts and hotels, where they have kept guests safe for over 50 years.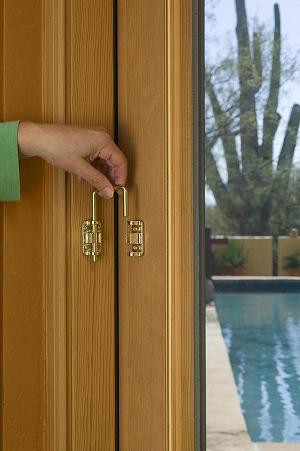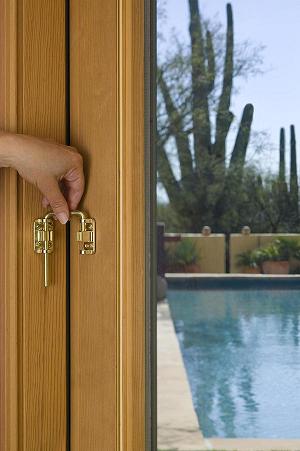 Engertís Patio Door Security Latches
Try an Engertís Patio Door Security Latch. Itís the most effective, economical way to keep your family safe!

Order Online, Call 1-800-536-2003, or Fax 1-847-673-1881
For more information, head to www.handlelatch.com